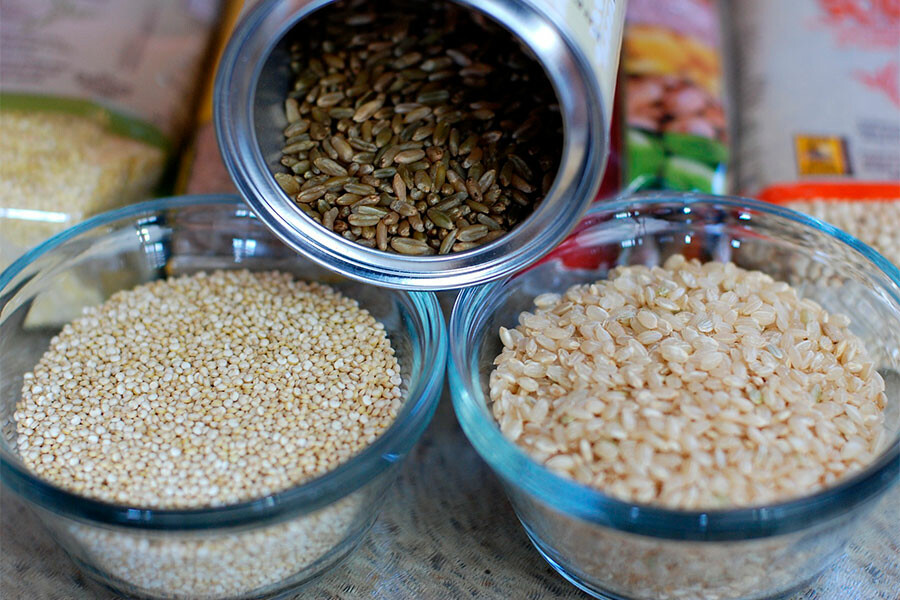 by Toby Monte
Very Simple Miso Soup
4-5 cups water
1 cup of onion, sliced thin in half moons
1 to 2 inches of wakame seaweed (washed, soaked, and cut up)
4 teaspoons barley miso
Scallions or parsley, chopped for garnish
1. Put the water, onion, and wakame in a pot. Cover, and bring to a boil. Reduce the fire and simmer for five minutes.
2. Take out a little of the soup stock, place in a bowl, and dissolve miso in the liquid. Stir into the soup, cover, and simmer lightly for five minutes.
3. Garnish with scallions or parsley.
Boiled Brown Rice
2 cups brown rice
4 cups water
Pinch of sea salt
1. Wash rice thoroughly and place in pot with sea salt. Bring to boil.
2. Reduce flame and simmer for approximately an hour.
3. Serve with condiment, pickle, or gravy (below).
Sesame Seed and Wakame Condiment
I small strip of wakame
1/2 cup of sesame seeds
1. Roast wakame for 15 minutes in 350 degree oven.
2. Dry roast sesame seeds. Stir until they pop.
3. Grind the wakame and sesame together in suribachi or blender.
Umeboshi Vinegar Pickles
1/4 cup onion, sliced thin in half moons
1/4 cup carrot, sliced in matchsticks
1/4 cup cauliflower, sliced in small florets
1/4 cup broccoli stems, skin removed and sliced into matchsticks
1/4 cup water
1/4 cup umeboshi vinegar
1. Place the vegetables in a jar.
2. MIx the water and umeboshi vinegar and pour over the vegetables.
3. Cover the jar with cheesecloth and allow to sit overnight.
4. Remove the cheesecloth and place the lid on the jar. Refrigerate.
5. Rinse before eating. They are good for five to seven days.
Kuzu- Shitake Mushroom Gravy
3 cups water
5 teaspoons shoyu or tamari
2 teaspoons sesame oil
1 cup shitake mushrooms, soaked until soft
1/2 cup onion, minced
2 tablespoons parsley or scallions, chopped fine
5 teaspoons kuzu, diluted in 6 teaspoons water
1. Heat oil in a skillet. Saute the onion for a few minutes.
2. Trim the ends of the stem off mushrooms and slice very thin.
3. Saute mushrooms in sesame oil for five minutes.
4. Add water and soy sauce or tamari to the mushrooms. Cover and bring to a boil. Reduce flame to medium and simmer for five minutes.
5. Add diluted kuzu to the mushrooms and stir constantly until the sauce becomes thick.
6. Turn off the flame and add parsley or scallions.
Aduki Beans. Kombu, and Squash
1 cup aduki beans, washed and soaked
I strip kombu
1 cup winter squash, cut into cubes
1/2 teaspoon sea salt or tamari to taste.
1. Place the kombu at the bottom of the pot. Add squash and then the aduki beans. Add enough water to cover. Bring to a boil, reduce heat to medium-low, cover, and cook until beans are almost done (approximately 2 hours). Add water during cooking process, if needed.
2. Season with sea salt or tamari and cook until beans are very soft.
Steamed Greens
Bunch of greens (kale, collards, anything you like), washed and cut up
1. Put one cup of water in a pot over a high flame. Place steamer inside, and cover.
2. When water boils for a few minutes, place greens.in the steamer and cover. Cook for a few minutes or until greens become brightly colored.
3. Serve with Umeboshi Plum and Pumpkin Seed Condiment (below).
Umeboshi Plum And Pumpkin Seed Condiment
1 umeboshi plum or tablespoon of the paste
1/2 cup pumpkin seeds
1/8 cup chopped parsley or scallions
1. Sort, wash, and dry roast hulled pumpkin seeds in a skillet.
2. Grind to a paste in a suribachi.
3. Remove the pit from the umeboshi plum, if you are using it. Chop the plum and grind to a paste with the seeds. If you are using the paste, just add it to the suribachi and mix with the pumpkin seeds.
4. Add water to desired consistency.
5. Add parsley or scallions.
Sweet Vegetable Drink
This drink is good for softening lightness caused by heavy animal food consumption and for relaxing the body and muscles. May be stored in the refrigerator for a few days.
1. Use equal amounts of four sweet vegetables (such as onions, carrots, cabbage, and winter squash).pr Finely chop the vegetables.
2. Add four times the amount of boiling water and allow to boil for three minutes. Reduce flame to low, cover, and simmer for twenty minutes.
3. Strain the vegetables.and drink the broth.
Ume-Sho-Kuzu
Good for strengthening and omoting good digestion. An energy tonic tool.
1. Dilute one teaspoon of kuzu with three teaspoons of cold water.
2. Add one cup of water to diluted kuzu.
3. Add the pulp of one umeboshi plum to this liquid. Or, if you have paste, put in a tablespoon of umeboshi paste,
4. Bring to a boil, stirring constantly, until liquid becomes translucent. Reduce the heat to simmer.
5. Add a few drops of shoyu or tamari. You can also add grated ginger.
Ume-Sho-Ban
This tea is very alkalizing and energizing, and good to use if you do not have kuzu in the house.
1. Prepare bancha (or kukicha) tea. Strain and put liquid in another pot.
2. Add the pulp of one umeboshi plum to the bancha or kukicha tea. Or if you are using paste, then a tablespoon of paste.
3. Bring to a boil, stirring in the plum or paste. Add a few drops of tamari. Bring flame down to low and simmer for a few minutes.
Daikon Tea
Daikon tea is good for adults who are more yang. It promotes sweating so can be used to bring down fevers. Only take it for a few days. (For reducing fever in children, warm apple juice is better.)
1. Grate about three tablespoons of fresh daikon,
2. Mix the daikon with one-quarter teaspoon grated ginger and a few drops of shoyu or tamari.
3. Pour two or three cups of hot bancha tea over the mixed Ingredients.
4. Drink while hot and keep yourself warm.
Shitake Tea
Shitake tea can help dissolve animal-quality fat and relax a contracted or tense condition, usually as a result of liver imbalance.
1. Soak one shitake in one cup of water for a half hour.
2. When shitake is soft, chop it very fine.
3. Put shitake and water in a pot and bring to boil. Reduce flame, and simmer for fifteen minutes.
4: Add a few drops of shoyu or tamari during the last few minutes of cooking.

Dit artikel werd gepubliceerd met toestemming van de auteurs, Tom en Toby Monte. Kijk op www.tommonte.com voor meer informatie over andere artikels, boeken en cursussen.
Voor informatie over programma's met Tom Monte in België, klik hier.