Biography
Willemijn de Dreu has 25 years of experience in guiding people in dance and guide them to unlock stuck energy in the body. She is committed to the dancing path and the freedom it brings for so many. She is known for her fiery yet grounded presence and her gentle way of healing through movement. She effortlessly weaves shamanic threads in her teachings, with a great sensitivity to what is arising in the field.
Willemijn originally studied theatre school, and was  trained in 1998 to teach the 5Rhythms by Gabrielle Roth. In 2005 she was trained as a Heartbeat teacher.
In 2008 she started working with Daan van Kampenhout who taught her more about shamanism and ceremony. In 2013 she became a certified Systemic Ritual constellator.
After years of training and assisting Andrea Juhan she graduated as an Open Floor and Libido teacher in 2016.
In 2019 she finalized her studies as a body oriented trauma therapist. Since then she also offers individual sessions.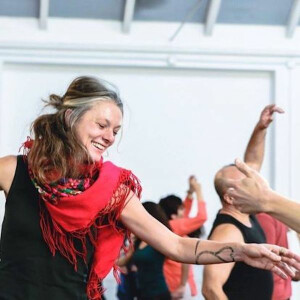 Willemijn de Dreu
Warnsveld, NL