3-day residential workshop in Orval (southern Belgium)
Using movement meditation to begin to explore the physical movement and cycle of sexual energy.
Libido Fundamentals begins to address the movement and cycle of sexual energy within the wider definition of Libido as life force, birth place of creativity, vitality, presence and aliveness.
As our hearts and bodies awaken through the movement meditation practice, our sexual energy also begins to stir. On the dance floor, we may feel juicy, radiant, and desirable one moment and feel guilty, awkward, and shy in the next. We may feel overwhelmed by our own experience - or by the sexual energies around us or feel flat, disconnected, or just plain left out.
Our generative, sexual energy - our Libido - is an essential part of our body's natural expression, complicated one moment, ecstatic the next; absent or burdened with expectations of past experiences, this energy within and between us comes to the dance longing for freedom.
Libido Fundamentals begins this complex and creative investigation by introducing the basics of using movement meditation as a means to ground, and explore the physical language of our sexual energy.
This course is a pre requisite to the longer intensives, where there is time to explore the multitude of historical, emotional, relational, creative and spiritual aspects of our sexuality.
There is no explicit sexual content or exercises, we're starting to track how who we are - our conditioning, gender, culture, social mores, dreams, memories, families - aids or obstructs our ability to move with our innate sexual life force and ability to relate.
Everyone welcome!
All genders and sexual orientations are welcome.
This particular Libido Fundamentals is a residential, allowing more time, space and exploration to unfold. We will work on some of the evenings, have spacious lunch times and also work with a ceremony on one of the nights.
It is a pre requisite to the longer Libido intensives with Andrea Juhan and a pre requisite for the Open Floor teacher training.
Cathy has been working in embodied movement practice for many years, with a background in theatre, writing and shamanic practice. She has studied and trained with Gabrielle Roth, founder of the 5 Rhythms®, working and teaching extensively in the field for over 16 years. She is a founding member of Open Floor International and works extensively in Europe and the UK, loving this ongoing exploration of how and what it is to be alive in these moving, humans bodies of ours.
For more details about her work and background see www.humans-being.co.uk and www.openfloor.org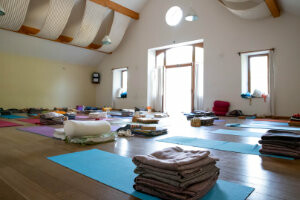 La ferme du Bois-le-Comte is an eco-friendly venue for groups in the South of Belgium (close to the French border and at a 20-minute walk from the famous abbey of Orval). Superb position in the midst of nature. All meals are plant-based.
Questions?