9-day residential workshop in Orval (southern Belgium)
Initiation is a resourcing, adventurous and sensitively held 9 day exploration of our journey through life. Supported by good companions and expert guidance enabling a strengthening of our relationship with ourselves and life.
The focus of this journey is two-fold: To bring recognition, acknowledgement and gratitude for life's journey; To help us learn from the crunchy and smooth of our personal histories, so we can understand ourselves better and establish more ground to act from choice rather than compulsion as we step forwards.
During the retreat, we will work with the nine cycles of the life journey: conception, birth, childhood, puberty, adolescence, adulthood, maturity, old age and death.
Through movement and other body based practices we will explore the landscape and archetypes of each life cycle, acknowledging what has been, bringing understanding and learning where we can, particularly to any challenges we faced. In the transition between adolescence and maturity, we will spend time on a mini vision quest to gain insight for our adult lives. We will then invoke death as a teacher to remind ourselves that our time here is short and precious, enriching our understanding of what really matters to us as adults and elders.
The intention of this retreat is to bring acceptance, love and compassion to the journey we have experienced so far and recognise what was initiated in us with the resources accessible at that time. Giving acknowledgment to important initiations from a place of more resource and offering ourselves what we might have wished for but did not receive. To then dream into our future as encouragement for our present selves.
This 9 day retreat is an opportunity to update and strengthen our relationship with ourselves and life. So we can re-enter the world and our communities better equipped to support that which brings life, connection and kindness.
Registration
Please first fill in the application form if you are interested in participating.
Pre-requisites: A minimum of 40 hours of Movement Medicine or related practices before the retreat begins.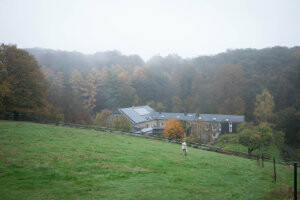 La ferme du Bois-le-Comte is an eco-friendly venue for groups in the South of Belgium (close to the French border and at a 20-minute walk from the famous abbey of Orval). Superb position in the midst of nature. All meals are plant-based.
Questions?
Subscription information
Cost includes full-board accommodation (100% organic & vegetarian) in 4-bedded room. Single, double or twin room: + 306 EUR. The early booking discount on the course fee is for payments received before 30/06/24: _ 1611 for places booked and paid by 30.06.24
Planned sessions (10)
Session 1: Sunday 3 November 2024 - Orval - Bois-le-Comte

Session 2: Monday 4 November 2024 - Orval - Bois-le-Comte

Session 3: Tuesday 5 November 2024 - Orval - Bois-le-Comte

Session 4: Wednesday 6 November 2024 - Orval - Bois-le-Comte

Session 5: Thursday 7 November 2024 - Orval - Bois-le-Comte

Session 6: Friday 8 November 2024 - Orval - Bois-le-Comte

Session 7: Saturday 9 November 2024 - Orval - Bois-le-Comte

Session 8: Sunday 10 November 2024 - Orval - Bois-le-Comte

Session 9: Monday 11 November 2024 - Orval - Bois-le-Comte

Session 10: Tuesday 12 November 2024 - Orval - Bois-le-Comte