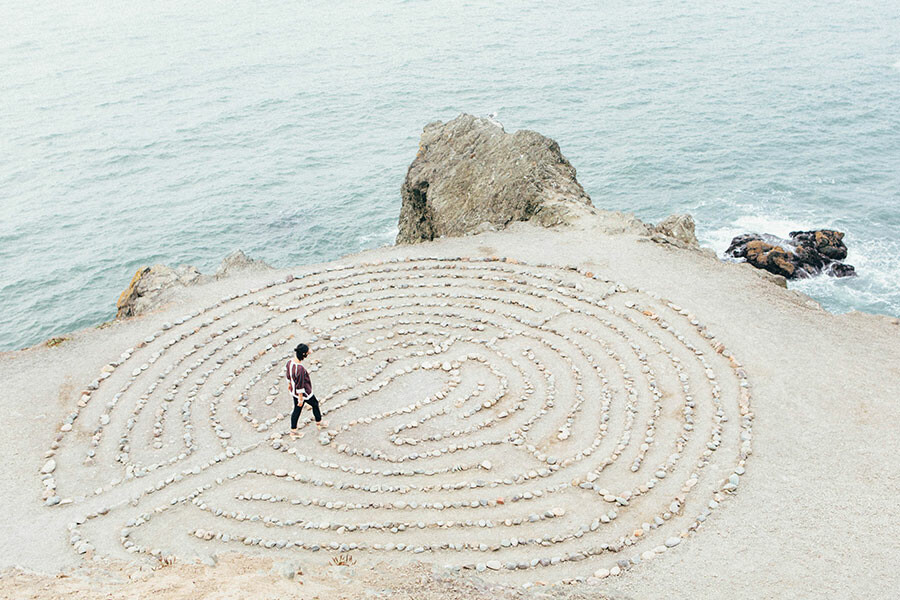 THE ANCESTRAL MIND AND ITS POWERFUL FEAR-BASED HABITS
Patterned behaviors are like cows that walk the same paths from the barn to the pasture and back again every day. There's a big world out there, but the cows are trapped in their cow paths and they never get to experience it.
Humans are a lot like that, too, only our cow paths are the repeating patterns of thoughts, emotions, and actions in which we are trapped. In other words, our habits.
Automatic behaviors are powerful forms of addiction. They make us numb and anxious, in part because like all addictions, they do not solve the problem that they are addressing. Instead, they keep the cycle of dissatisfaction, anxiety, fear, and anger alive in us, which ironically sustains our pain.
Since the emergence of human consciousness, a fear-based, shadow mind — and its many habits — has been passed down through the generations. I refer to this part of us as the ancestral mind. The ancestral mind experiences life as a state of separation from all others, from the earth, from our Source. It is the basis for people competing for resources and the lonely struggle for survival. It drives us to act from fear, anger, greed, hatred and violence.
The ancestral mind endures for several reasons.
First, because we are unconscious of its presence within us. We are unaware that an aspect within us drives fear, anger, greed, hatred, and violence.
The second is that it has subtly but effectively caused us to believe in our aloneness, separation, powerlessness, and victimhood.
And the third is that it has convinced us of its false promise, which is that the habits it has enforced upon us can save us from our fear, anger, and the uncertainty of life. But nothing could be further from the truth.
As long as we are under the yoke of the ancestral mind, and its powerful habits, we have no power and no freedom to love, to heal, and to create.
THE HEART-CENTERED MIND IS POSSESSED OF INNATE GOODNESS
You and I possess what we can call Innate Goodness (which I will define more clearly in our program) because of what we come from and what exists at a certain strata of our being.
That Innate Goodness gives people the power to do amazing things.
Indeed, it is the Force, the Inner Knowing, behind all acts of love, generosity, service, healing, creativity, and invention. It is the hope of humankind. And it's accessible to you right now.
Accessing Innate Goodness, or the Hear-Centered Mind, doesn't start by doing something you think is good, or doing what you are told is good, or having an authority figure tell you that you should do this or that because it's right or good "(because I said so…"). No, Innate Goodness is something you experience in your body as a Deep Inner knowing. It is felt
most intensely in your heart, solar plexus, and gut, the region of your second brain. (More about of that in the program.)
This Inner Knowing permeates every cell, wave of energy, and photon within you. It flows from your Soul.
And because of the Universal nature of Goodness, it works out that when you act from you Inner Knowing, others benefit, too (in many cases immensely).
There is something else about Innate Goodness that we need to reflect on and ultimately embrace: It changes the environment for the better.
Meaning, Innate Goodness creates opportunities for Goodness to thrive.
Innate Goodness, or the Heart-Centered Mind, wants to reshape the world. But that reshaping can only arise when you and I act from this Deeper State, which essentially releases a certain flow of energies (or frequencies) to entrain events and cause them to conform with the Intentions of Innate Goodness. (A lot more about all of that in our program.)

THE PROGRAM
Some of the important behaviors you will be learning and practicing include the following:
In every moment, there is a choice between the ancestral mind, with its insistence on your powerlessness, versus the Heart-Centered Mind, which offers you inspiration, hope, and the power to create. The program will show you how to arrest that moment, experience the power of your Inner Knowing, and allow Innate Goodness to direct you.
Practice feeling without thought. Feelings are deep currents of life energy, in fact rich states of Truth and Inner Knowing. To bring Awareness to those feelings — whether happy, sad, painful or ugly — is to bring a gentle healing grace of the Heart-Centered Mind to states of unresolved pain and conflict. To practice feeling without thought is to feed the Heart Center Mind and make it grow stronger in our consciousness.
Creativity is love in movement. The two flow from the Heart-Centered Mind to overcome the powerlessness and inertia of the ancestral mind.
Recognize and overcome the seductive power of rejection, which is a secret force for undermining our lives. Rejection is not discernment, though ancestral mind would have you believe the two are the same. Rejection is a dark and distinct force. The program will help you see how the power of rejection ultimately results in rejection of self, and how it has helped to close us from experiencing our Innate Goodness.
Awaken to the constant Presence of Inner Knowing, essential Goodness, the Heart-Centered mind that rises unexpectedly from within you as an impulse, a small burst of inspiration, in otherwise ordinary moments — i.e., while walking, or getting up from your chair, and moments relaxation, quiet, laughter, or intense concentration.
Practice opening to the Heart-Centered Mind and allow It to answer your questions and guide you in all decision-making, thereby reshaping your life, your environment, and collectively change our world.
Transform longstanding habits that serve to keep us in numb, unconscious, and afraid — in short, patterns of thought, emotion, and action that are essentially self-limiting and self-sabotaging.
Experience Beauty as an essential Force for healing and transformation. Beauty is love given form. It is the living expression of our Divine Nature, hidden in plain sight, yet accessible to all of us.
Practice disengaging from the external, from the ancestral mind, and instead observing yourself, your mind, your feeling state, and your surroundings. And in the process, discovering that Awareness brings about an immediate shift into the Heart-Centered Mind.
These are just some of the transforming practices that you will learn in this program. Collectively, they form a process, or if you like, a journey toward a Tipping Point that can occur for each of us, and for all humanity. If enough of us (anywhere between 10 and 20 percent) engage in this process, and share it with others, we will transform ourselves and our world.
Courses with Tom Monte- why they're so worth it- a participant's view

During the last two years, mainly due to the Covid crisis, Tom's classes couldn't take place. Perhaps this break was of value in itself, as this absence highlighted the beauty and magic of these gatherings even more. I have been following courses with Tom for the past 14 years. To me the degree of spiritual, emotional and intellectual nourishment of these classes is unprecedented. Tom's teachings are profound and never ceases to inspire me. But in addition to that, these gatherings feel like home, in that they help me return to my spiritual home within. If I had to define the essence of what Tom is teaching, it would be to help us reconnect with that part within us that is whole, safe and lives in happiness. In essence, it's about love and finding the courage to walk on this mysterious path of life. And he can do that for everyone- give courage and hope; regardless of the depth of a problem, or the intricacy of the crisis one faces. I always wanted to work as a healer and therapist, but had so many doubts and fears about it. I know without a doubt that Tom was one of the main catalysts in helping me find my way.

If you're looking for a safe space in which you can relax and heal, feel safe, be inspired and nourished, then this is it. You'll walk out as a different person.

- Victoria, Brussels
Subscription information
Single, twin or double room: + 544 EUR.
Planned sessions (20)
Session 1: Wednesday 22 February 2023 - Orval - Bois-le-Comte

Session 2: Thursday 23 February 2023 - Orval - Bois-le-Comte

Session 3: Friday 24 February 2023 - Orval - Bois-le-Comte

Session 4: Saturday 25 February 2023 - Orval - Bois-le-Comte

Session 5: Sunday 26 February 2023 - Orval - Bois-le-Comte

Session 6: Wednesday 17 May 2023 - Orval - Bois-le-Comte

Session 7: Thursday 18 May 2023 - Orval - Bois-le-Comte

Session 8: Friday 19 May 2023 - Orval - Bois-le-Comte

Session 9: Saturday 20 May 2023 - Orval - Bois-le-Comte

Session 10: Sunday 21 May 2023 - Orval - Bois-le-Comte

Session 11: Monday 14 August 2023 - Orval - Bois-le-Comte

Session 12: Tuesday 15 August 2023 - Orval - Bois-le-Comte

Session 13: Wednesday 16 August 2023 - Orval - Bois-le-Comte

Session 14: Thursday 17 August 2023 - Orval - Bois-le-Comte

Session 15: Friday 18 August 2023 - Orval - Bois-le-Comte

Session 16: Wednesday 1 November 2023 - Orval - Bois-le-Comte

Session 17: Thursday 2 November 2023 - Orval - Bois-le-Comte

Session 18: Friday 3 November 2023 - Orval - Bois-le-Comte

Session 19: Saturday 4 November 2023 - Orval - Bois-le-Comte

Session 20: Sunday 5 November 2023 - Orval - Bois-le-Comte